Version presented with perimeter command and wheel options
Medical
Device
Dimensions
194 x 64 x 50 h92 cm
Adjustable height
da cm 50 cm min a 92 cm max
Safe working load
160 Kg
Maximum capacity
200 Kg
Unimpeded passage
for patient lifting
Picasso XL
Two-section physiotherapy electric table with forward tilting of the backrest only, and electrically assisted height adjustment. Recommended for therapy sessions, massages and medical exams.
From 1.593,00 € VAT excluded
Medical
Device
Dimensions
194 x 64 x 50 h92 cm
Adjustable height
da cm 50 cm min a 92 cm max
Safe working load
160 Kg
Maximum capacity
200 Kg
Unimpeded passage
for patient lifting
Features
Two-section table with with 84 cm forward tilting of the backrest only, assisted by gas piston.
Electric motor with a thrust force of 8000 N
Push-button control panel
Safety control key
Class 1IM fire-retardant padding and upholstery
Backrest adjustable in the forward direction by means of gas piston.
86-cm long backrest that offers a large and comfortable lying surface, designed for patient comfort when performing treatments in both sitting and lying positions.
Optional 360° perimeter control facilitates height adjustment offering maximum operator comfort.
Push-button panel with safety lock for height adjustment.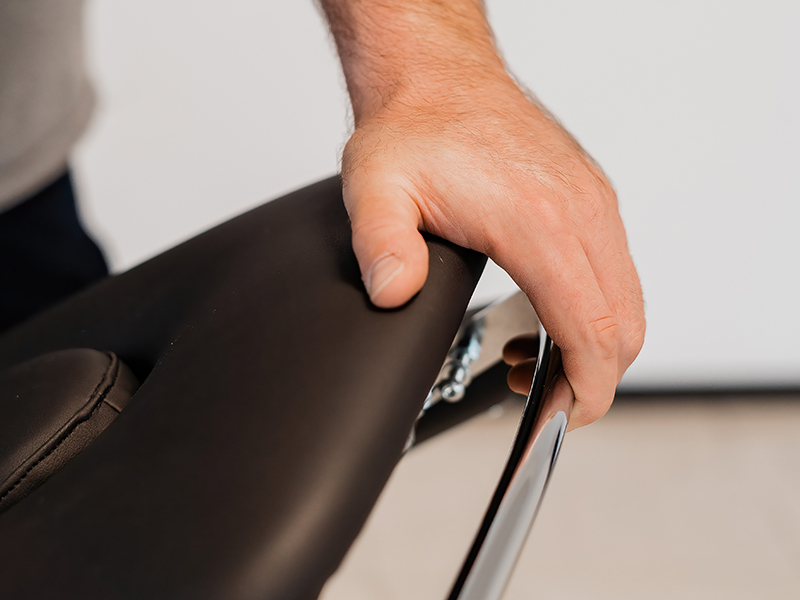 Practical handle for tilting the backrest that allows for different inclinations up to +70° and +80°.
Four retractable castors with 360° rotation are optionally available to facilitate moving the bed.
PRODUCT DIMENSIONS
Technical diagram representing the dimensions of the Picasso XL model.
NEED INFORMATION?
Write to us and we will get back to you as soon as possible to help you find the perfect solution for your practice.