The photo depicts the product complete with optional accessories
Medical
Device
Dimensions
200 x 74 x 50-95h cm
Adjustable height
50 cm min-95 cm max
Safe working load
160
Maximum capacity
200
Unimpeded passage
for patient lifting
Michelangelo
Bariatric static table with two electric motors that assist in adjusting both the height and tilt of the table. The variable height from 50 to 95 cm allows easy transfer of the patient to a wheelchair.
From 5.100,00 € VAT excluded
Medical
Device
Dimensions
200 x 74 x 50-95h cm
Adjustable height
50 cm min-95 cm max
Safe working load
160
Maximum capacity
200
Unimpeded passage
for patient lifting
Features
Two electric motors with a thrust force of 10000 N for elevation and 10000N for tilt
Positive tilt up to +88˚
Gas piston assisted adjustment of backrest up to + 80°
Positive/negative tilt up to + - 15˚
Goniometer
Equipped with a set of 5 fixation belts
Four swivel castors with brake
Class 1IM fire-retardant padding and upholstery
72 cm wide padding for optimal patient comfort.
Allows gradually moving to an upright position by up to 88° using a practical remote control.
The central guide facilitates the attachment of the 5 safety belts to the lower limbs, also allowing one limb to be freed for therapist-guided exercises.
Four swivel castors, all with brakes that allow the table to be easily moved.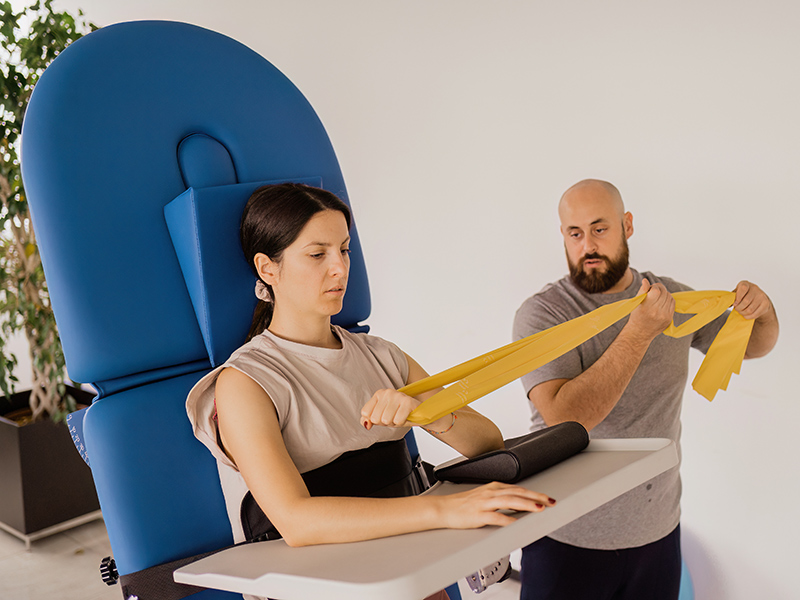 An armrest is available for assisting with daily activities and facilitating upper limb exercises.
Twin footrests with independent forward and backward tilt.
PRODUCT DIMENSIONS
Technical diagram representing the dimensions of the Michelangelo model
NEED INFORMATION?
Write to us and we will get back to you as soon as possible to help you find the perfect solution for your practice.